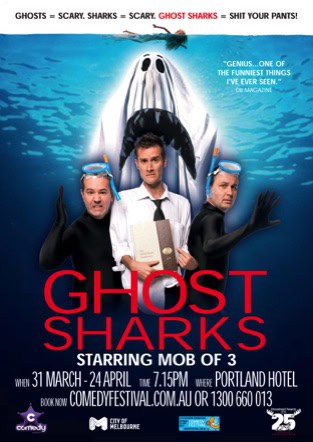 Imagine "Jaws" meets "The League of Gentleman." "The Wicker Man" meets "Snakes on a Plane", or "A Nightmare on Elm Street" meets "The Little Mermaid.."
Ghost Sharks! is the tale of Felix Sparrow, an A-K Encyclopaedia salesman who finds himself on the remote island of Deepwater Scum while looking for his vanished partner (L-Z). As the mystery deepens, Felix finds himself on the run from a cast of twisted townsfolk, supernatural sea molluscs and an armada of terrifying Ghost Sharks.
Will Felix thwart the sinister menace of Fish Satan and his invisible toothy disciples? Will he face his fears of the ocean in time to shut the gates of Fish Hell forever? Will he sell enough encyclopaedias for his monthly bonus?
Ghost Sharks! provides a highly original form of comedy-theatre through a mix of new and old-school technology. The show will make use of black light theatre, retro toys, underwater paraphernalia and classic video games creating an imaginative seafaring epic on an amusingly small scale.
The team behind Ghost Sharks! is newly formed comedy trio Mob of 3, consisting of writer/performer Caleb Lewis and comedians Mark Trenwith and Scott John. Caleb penned the 2009 Fringe 'best writing' award winner 'Death in Bowengabbie' whilst Mark and Scott are in demand stand-up comedians, Mark having won the title of Adelaide Comedy 2010 'Comedian of the Year.'
When asked to describe the show Mob of 3 member Caleb Lewis said 'Basically it's a seaside horror comedy. We saw a gap in the market. If you made it as a movie it would cost millions; as a show at the fringe, hopefully less."
After their season in Adelaide, Mob Of 3 take Ghost Sharks! to The Melbourne International Comedy Festival, as a 2011 Moosehead Award recipient. The Moosehead's are administered by Token Artists and The Comedy Channel among others with past recipients including Lano And Woodley, Judith Lucy and Sammy J. The prize includes publicity and production support as well as assistance from an industry director.




"one of the funniest shows I've seen.."